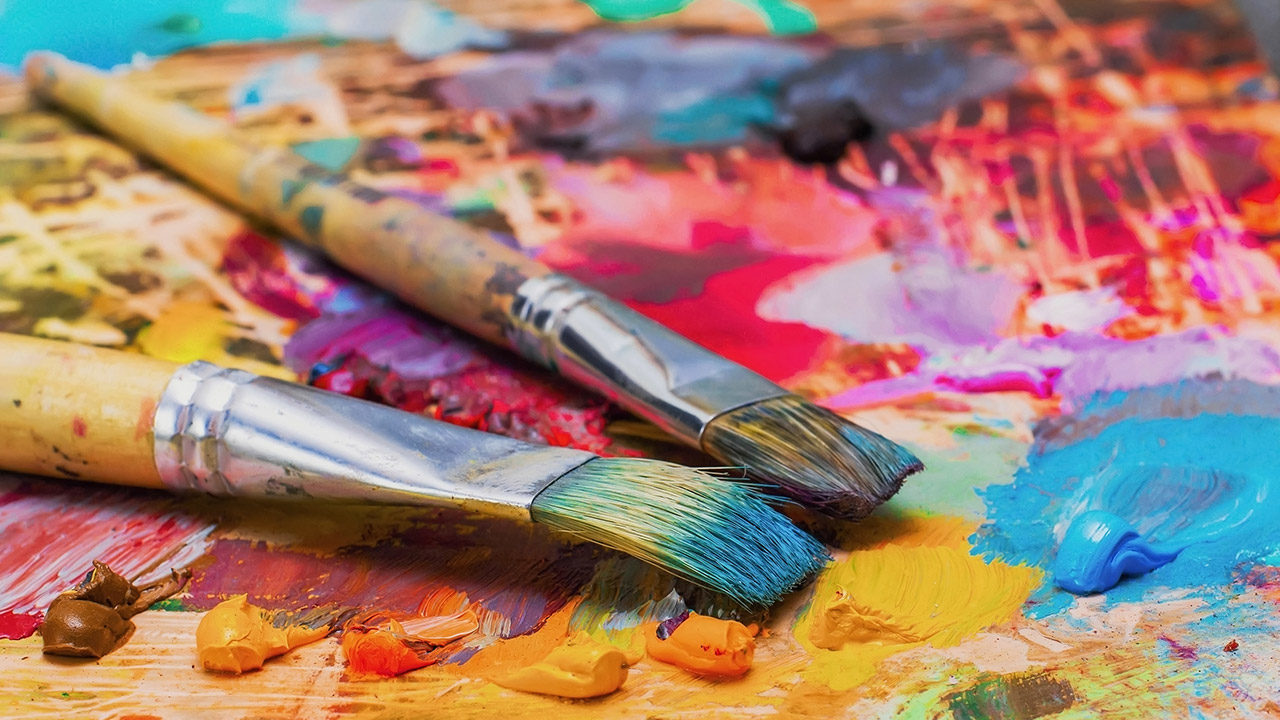 A Palette of Possibilities
Creative Arts Therapy
Sometimes finding the right words can be tough, but spending time with a creative arts therapist at the Pieters Family Life Center can make it easier to work through complex feelings and stressful life changes.
The Pieters Family Life Center has several licensed creative arts therapists who specialize in art, music and dance/movement, each of them with experience working with people of all ages and abilities. They use paintbrushes, pianos and creative movement to address feelings of loss, periods of transition, changes in mental health, delays in developmental stages and more.
In each session, therapists look at the whole person – not just at a single behavior or an obvious area of struggle – and they offer the kind of compassionate care that helps a person feel comfortable and confident. Read more about reasons why a person may consider creative arts therapy at the bottom of this page.
REASONS FOR CREATIVE ARTS THERAPY REFERRALS
Challenges with Affective Expression
Creative arts therapy will address increasing affective range, foster appropriate emotional expression through creative modality, develop awareness of how a person expresses feelings, and provide empathy, support and validation.
Diagnoses and challenges include but are not limited to:
Depression
Anxiety
Autism spectrum disorder
Bipolar disorder
Personality disorders (such as schizoaffective, borderline personality)
Aphasia
Paralysis
Traumatic brain injury
Difficulty Creating and/or Maintaining Positive Relationships and Social Interaction
Creative arts therapy assists with improving awareness of self and of others, provides an opportunity to learn and maintain appropriate social boundaries, addresses the fundamentals of social interaction and teaches empathy.
Diagnoses and challenges include but are not limited to:
Autism spectrum disorder
Attention deficit disorder and/or attention deficit hyperactivity disorder
Oppositional defiant disorder
Obsessive compulsive disorder
Depression
Adjustment disorder
Personality disorders (such as schizoaffective, borderline personality)
Profoundly Emotionally Effected by a Significant Event
Therapy provides a safe and confidential setting for participants to process a significant event through non-threatening creative expression. Therapy helps people establish a sense of self-efficacy as they develop positive coping skills. Examples of events include crisis in home, death of a loved one, changing familial relationships, witness to or experience of sudden traumatic event (such as a car accident) and ongoing physical or psychological abuse.
Diagnoses and challenges include but are not limited to:
Post-traumatic stress disorder
Depression
Adjustment disorder relating to grief or loss
Stroke
Traumatic brain injury
Sudden or Ongoing Physical Health Challenges
Creative arts therapy assists participants with processing and developing an understanding of their physical state through creative expression. As motor skills and physical abilities are often affected by these challenges, body awareness and fine and gross motor abilities are addressed alongside the emotional component.
Diagnoses and challenges include but are not limited to:
Stroke
Traumatic brain injury
Degenerative disease (multiple sclerosis, Parkinson's disease, Alzheimer's disease)
Loss of limb
Chronic illness/pain (autoimmune disorders, fibromyalgia)
Cancer
Psychosomatic disorder
Behavioral Challenges
Creative arts therapy confronts behaviors that are disruptive to daily functioning. By providing a safe and creative outlet to understand the root or cause of the behavior, therapies help participants develop self-awareness and teach positive self-expression with the goal of decreasing the disruptive behavior. Examples include excessive absences, adjustment difficulties, poor peer interactions and difficulty with authority figures.
Diagnoses and challenges include but are not limited to:
Sudden or ongoing maladaptive behavior that is disruptive to a person and/or their environment
Oppositional defiant disorder
Attention deficit disorder/attention deficit hyperactivity disorder
Obsessive compulsive disorder
Depression
Bipolar disorder
Sexual identity confusion
Challenges with Communication
Creative arts therapy supports people with communication challenges, by helping them develop or maintain the tools and skills to express their needs, feelings and thoughts. Verbal and non-verbal tools are used to build confidence within self-expression, improve receptivity, increase expressive range and the ability to engage interpersonally.
Diagnoses and challenges include but are not limited to:
Selective mutism
Alzheimer's disease
Aphasia
Autism spectrum disorder
Stroke